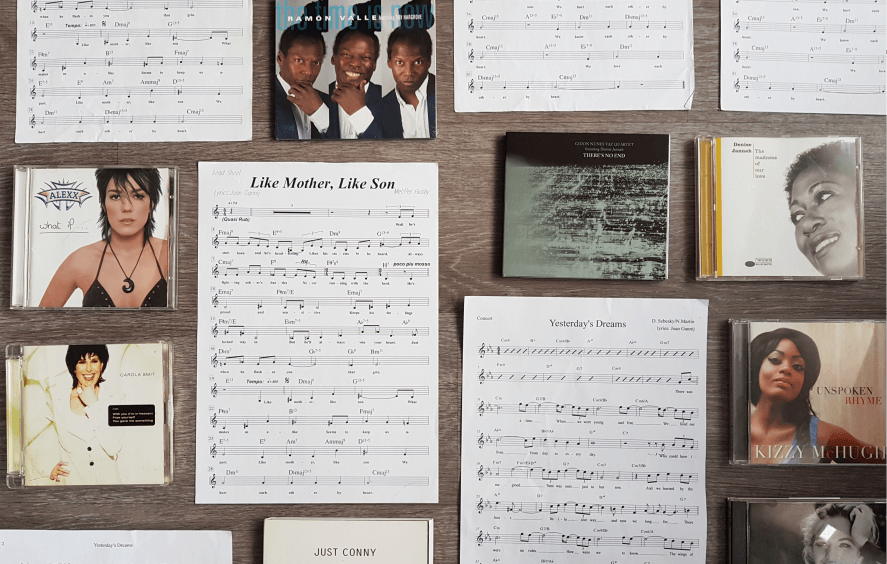 LYRICS
1999 "The Madness of our Love"  Denise Jannah (Blue Note)
My composition was selected as the title track for this well-reviewed album. I also had the honor of writing the liner notes about Miss Jannah, who won an Edison Prize as "Top Artist of 1999", the Dutch equivalent of a Grammy.
2000 "What If?" Alexx (Red Bullett)
I wrote the lyrics for 11 of the 13 songs: "Did I Mean (That Little to You)?", "How Do You Paint Your Colors Today?", "What If (I Can Never Let You Go)?", "Sunday's Just Another Day", "Fight or Flight", "On My Way", "Through the eyes of a Child", "I Feel Love (I Feel Life)", "Bad Girls", "The Wrong Side", "Throw the Dice"
2007 "Rembrandt's Town"  Fridolijn van Poll
An unreleased song that was sung on national television in honor of the 400th Jubilee of the esteemed painter Rembrandt van Rijn.
2008 "Carola Smit" (Universal Music)
I wrote the lyrics for 10 of the 13 songs. "With You (I'm in Heaven)", "You Gave Me Something", "No Matter What", "Don't Give it Up", "Free Yourself", "I Can Sing (I Can Dance)", "The Last Word is Goodbye", "Alone in Her Own World", "Golden Boys", and "Burning Bridges"
2010  "Just Conny" Conny Breukhoven and the Metropole Orchestra (Rough Trade)
I wrote the lyrics for "How Blue Can You Get".
2012  "Unspoken Rhyme"  Kizzy McHugh (Talent Beach)
Wrote the lyrics for 2 of the 12 songs: "This Bed Ain't Big Enough" and "Life Lessons"
2015 "Reckless Smile"  Sazz Leonore (Talent Beach)
Composed the title track, "Reckless Smile", as well as two other compositions on this 14-track recording, "Foolin Myself and "Easy Way Out".
2019 "There's No End" Gidon Nunes Vaz Quartet (Tritone Jazz Records)
Featuring Denise Jannah. I wrote the lyrics to "Yesterday's Dreams," a composition by acclaimed arranger/composer Don Sebesky, who gave me his blessing for telling a good story.
LINER NOTES
2018 "The Time is Now"  by Ramon Valle (In and Out Records)
Wrote the liner notes for this versatile Cuban musician, who featured the late trumpetist Roy Hargrove on his latest recording, with two compositions honoring his mother and father.